We have this little yellow bathroom in our house.  It's the only potty-room downstairs.  Just a half bathroom.  When we moved in it was papered with yellow and white striped wallpaper and had a sunflower border at the top around the ceiling.  I hated it.  I mean. really.hated.it.
I never felt like removing the wallpaper.  That's a terrible job.  So, I painted the border and the ceiling a periwinkle/lavender color and painted dragonflies on the walls.  I just don't know what I was thinking.  I didn't love that either.  But, it served it's purpose. 
Now that we're moving, we hired someone to come in and do some drywall work in all three bathrooms and some general touch ups.  One thing he did was remove the wallpaper from the little yellow bathroom and smooth the walls with drywall mud. 
Almost all the walls in the house are rough. Like weird popcorn ceiling rough.  Only, it's on the walls.  Dumb.  Who ever thought that was a good idea was dumb.  It's super difficult to patch because you just cannot match that texture.  Just give me smooth walls and call it good!
I can only find one photo taken of that room in all these years. But I apparently had photoshopped the yellow out of it.  So, alas, I will not share it with you.  It's a pic of the little girl on one of her first days of school.  If you wanna see it, I'll post it.  🙂
ANYWHOOOOO…So he removed the paper, smoothed the walls and now I'm in the process of painting.  I primed all the walls with the Kilz2 from an earlier post and gave all the trim and the cabinet a new coat of nice white paint.  It already looked so much better just doing all that. 
Then i was inspired by this photo from a Crate & Barrel catalog…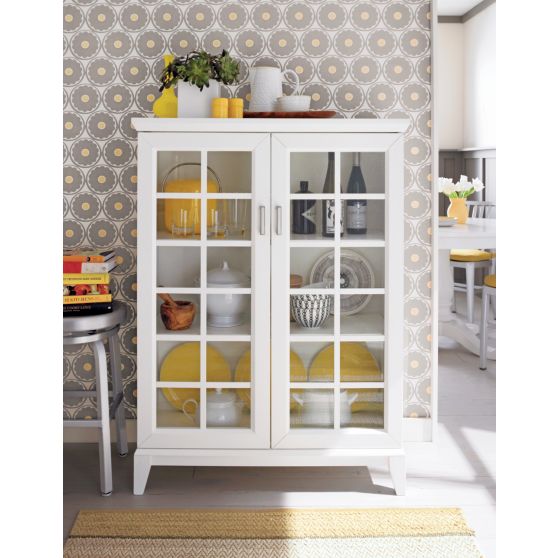 http://images.crateandbarrel.com/is/image/Crate/Paterson2DoorCabinetM112?&$web_zoom$&wid=558&hei=558
It's just so fresh and clean and airy feeling…I know that gray and yellow is a really popular color scheme right now, but I just don't love it together.  It reminds of a this terrible puffy winter coat I had when I was growing up that was gray and pink.  I hated that coat. 
Anyway, the countertop in that bathroom is "yellow marble".  LOL.  It's really terrible…and it's not really marble 🙂  But I decided to work with it rather than against it.  So I've decided to paint the walls a light gray color.  I have some gray paint leftover from painting the kids' rooms.  They both wanted gray, different shades.  So I just mixed it with white.  The first one was way toooooo dark.  So, I mixed in more white.  It was still too dark.  So I decided to just pour that gray into the can of white paint!  Finally I think I came up with a gray I can live with.  At least until we move! 
Sorry for the quality…I am not a photographer, I just have a Canon point and shoot camera.  Don't judge.  🙂
So, my mom is finishing painting that room as we speak.  Then we're on to other rooms.
Stay tuned!